Pricelist 2022 available!
10 Jan 2022
Our July 2022 pricelist is available now upon request, to obtain a copy please contact us at contact@triskem.fr. You will find that we have added a number of new products such as the TK211/2/3 Resins (lanthanide separation), TK221 Resin (lanthanides and actinides), TK-TcScint (separation and direct LSC measurement of e.g. Tc-99), TK202 Resin (Tc separation from alkaline matrices) and the Guard Resin (removal of organic impurities, Ge separation) to our pricelist this year.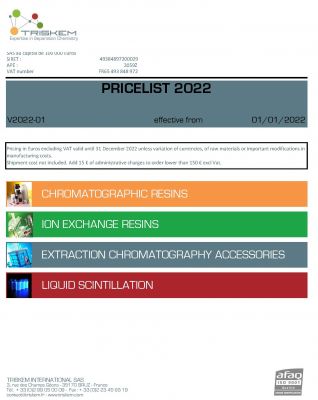 TrisKem at ISTR 2019 in Vienna, 28 October-1 November!
You are welcome to visit us at our booth M8 and discuss with our expert Dr Steffen Happel about our new developments in the use of Extraction Chromatographic Resins for QC and production of radionuclides for diagnostics (e.g. Ga-68, Cu-64, Zr-89, Tc-99m,…) and therapy (Lu-177, alpha emitters, Cu-67,…).