European Users Group Meeting in York 2022 (UK) - 16/09/2022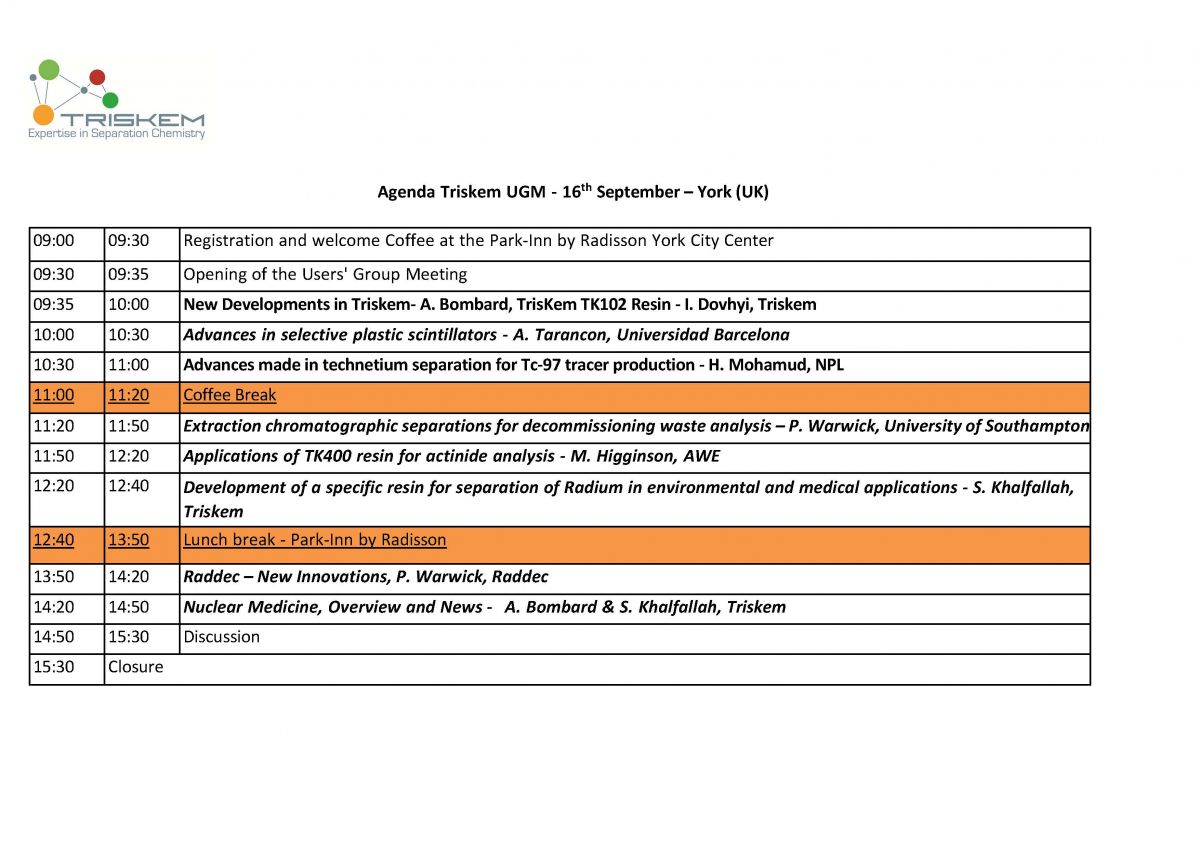 IN-PERSON UGM 2022 IN YORK (UK)
Dear Users,
It has become a cherished tradition to have a Users Group Meeting following the ERA symposium.
After 2010 (Chester), 2014 (Bath) and 2018 (Cambridge) we were very glad to hold a Users Group Meeting on the 16th of September 2022 in York (UK), directly after the ERA14.
We would like to cordially thank all participants of our Users Group Meeting for all the great presentations and discussions!
Presentations can be found below.
Your TrisKem Team
| | |
| --- | --- |
| Presenter - Organism - Title | pdf version |
| Aude Bombard - TrisKem - New Developments | download |
| Illarion Dovhyi - TrisKem - TK102 Resin | download |
| Alex Tarancón Sanz - University of Barcelona - Advances in selective plastic scintillators | download |
| Hibaaq Mohamud - NPL - Advances made in technetium separation for Tc-97 tracer production | download |
| Phil Warwick - University of Southampton - Extraction chromatographic separations for decommissioning waste analysis | download |
| Matthew Higginson - AWE - Applications of TK400 Resin for actinide analysis | download |
| Soumaya Khallfallah - TrisKem - Development of a specific resin for separation of radium in environmental and medical applications | download |
| Phil Warwick - Raddec - Raddec: New innovations | download |
| Aude Bombard & Soumaya Khalfallah - TrisKem - Nuclear Medicine, Overview and News | download |